I'm interested in challenging expectations of what music education can and should be.
We are constantly being told that our young people need to be 'creative' and 'innovative' but music education, a field that should be an example to other disciplines, is often lacking in these two vital areas.
My ideas towards education projects, whether that is a workshop or a long-term project, focus on a practical, inclusive, experimental and collaborative approach.
Putting an emphasis on 'making something' versus subjective ideas about what may be correct or incorrect practice leads to musicians and participants to rediscover a sense of fun in music while at the same time engaging in progressive concepts of music-making.
Having spent the last 10 years developing these skills, my current focus is on expanding participation in my projects to include people with no previous experience in performing.
I want to show that inclusivity and high musical quality are not mutually exclusive and that creativity requires no superpowers.
The only pre-requisites are an open mind and the courage to join in.
Past clients include:
Great Exhibition Of The North, Sage Gateshead, EFG London Jazz Festival, Tall Ships Regatta 2016, Aldeburgh Young Musicians, Leeds College of Music, ChapelFM, VestNorsk Jazz Forum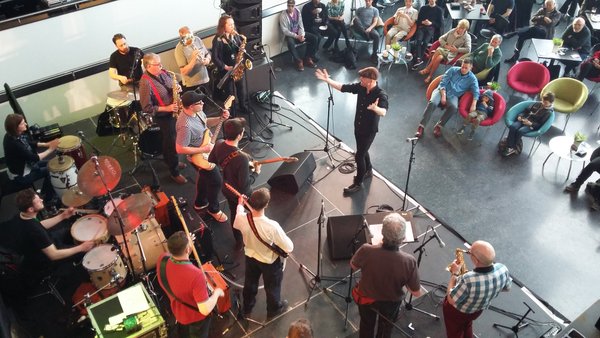 'Get in the Band', supporting statement from Great Exhibition Of The North
The Great Exhibition will show and share the difference the North is making to the world today and tomorrow and will acknowledge the achievements of the past. We are drawing the programme from artists, inventors and communities from across the North and bringing it to Newcastle Gateshead. Chris Sharkey's project is especially strong because it shares the ingenuity and creativity of his work and the breadth and talent of the musicians in the North, drawing together the inventiveness of improvised music with his skill to create and perform an exciting, bespoke composition designed to inspire and quite literally engage audience/participants. These inspiring pop up performances will add to the soundtrack of the opening weekend of the Exhibition, showcase the talent in the North and also encourage more engagement with the music of the North for both audiences and participants.
Vikki Leaney, Senior Festival and Events Manager, Great Exhibition Of The North 2018
'It was an amazing experience in every way. Musically, socially, in terms of the balance of performing, listening and workshopping specific skills... I really felt a perfect balance of being stretched musically and just enjoying the experience'
Make It / Break It Participant, Royal Festival Hall, London 2016
'I am from a brass band background, and I play folk. I stood up in front of several hundred people and did a jazz solo - that was quite unusual - great fun, I loved it!'
Make It / Break It participant, Sage Gateshead, 2015
'It was a timely reminder of the underlying grassroots agenda of one of the world's classiest jazz celebrations, and of where the love of music-making often begins - through chance meetings, faltering beginnings, and inspiring guides'
Make It / Break It EFG London Jazz Festival * * * * Guardian Review
'Chris Sharkey is a highly creative and dynamic musician, composer and teacher. He always delivers 100% on any project he undertakes.''
Ros Rigby OBE, Performance Programme Director for Sage Gateshead 2004-2016, President of the European Jazz Network
''Chris has a unique way of getting his students to explore creativity in ways that really challenge their perception of both music in general but also their own capacity for music making. His personable and enthusiastic approach puts people at ease while allowing them to take creative risks, drawing the best out of each individual student. He conveys his extensive knowledge and experience in a clear and concise way, and his contribution to the workshop programme at Leeds College of Music has been invaluable.''
Kari Bleivik, Principal Lecturer and Foundation Year Curriculum Co-ordinator, Leeds College of Music
''Chris Sharkey is an innovative musician and facilitator. His creative and passionate approach to Learning & Participation projects and performances, inspires and enables participants from a wide range of ages, backgrounds and abilities''
Louise Dennison, Head of Learning and Participation, Serious
"Chris knows how to make things happen. His direction is incredibly dynamic, and the result was a powerful performance with full expressive and creative engagement by the players. The audience loved it".
James Birkett - Course Leader BMus(Hons) Jazz, Popular and Commercial Music, Sage Gateshead
"Chris Sharkey of TrioVD fame, alongside the East London Creative Jazz Orchestra (ELCJO), created a sensational, jaw-dropping free stage performance at the Barbican for the 2012 edition of London Jazz Festival. The result of an intense, creative residency with ELCJO, Chris Sharkey and fellow TrioVD members Chris Bussey and Chris De Bezenac worked with the ELCJO and band leader Paul Griffiths to create new compositions, free improvised pieces and a re-working of existing TrioVD material especially for the Festival.
The project was a free stage highlight – a true testament to the commitment and passion Chris Sharkey and TrioVD share in inspiring a next generation of young musicians. Outstanding!"
The project was produced by Serious in partnership Barbican Creative Learning Team